In addition to central 30° used to observe the progression of glaucoma, other tests are available such as central 10° which can identify visual field abnormalities in the macula.
Clear Display of Analysis Results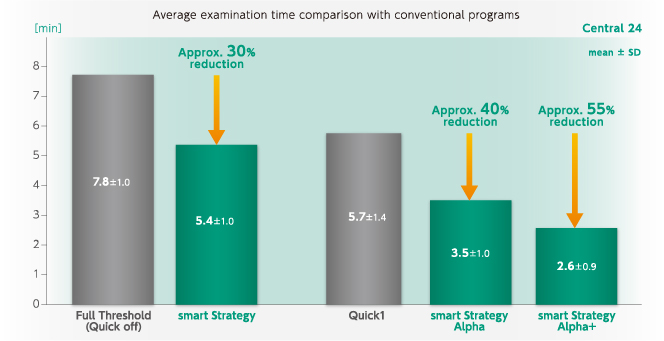 Analysis Indices
GHT (Glaucoma Hemifield Test)
For this index, threshold central test points are divided into 10 sectors, and
corresponding sectors above and below the axis of the horizontal median are compared.
VFI (Visual Field Index)
A percentage index in which a normal visual field is 100% , and total loss of visual field
is 0%
Anderson's Criteria Diagnostic Support Function
This criteria is for glaucomatous visual field defect.
If any of the following conditions are satisfied, the colors turn orange.
- PSD has p<5%
- GHT is outside normal limits
- Pattern deviation probability plot shows a cluster of 3 or more nonedge points
that have p<5%, and one of the points has p<1%
(The physician must judge whether the 3 points match the travel of NFL.)
Chronological Change Display
Test result analysis indices can be graphically displayed as time series data to give a
clear grasp of changes over time in the tested eyes.

Predictive Display
Predictive graphs are displayed from calculations of linear rates of changes in analysis indices.
This function predicts what values of MD and VFI will be reached at what age, if current rates of change in those values continue.