Environment & Infrastructure
We sell tugboats and patrol / pilot boats operating in port and harbor to a leading conglomerates in India, or owns bulk-carrier ships for its chartering business. Additionally, we handle goods related to ships and vessels or items related to energy.
Tugboats made in Japan with advanced equipment work actively in each ports of India. Bulk-carrier ships carry 180,000 tons of coal at one time to thermal power plants.
Main Products and Sevices
Various Ships and Vessels
tugboats

bulk-carrier ships

Patrol / Pilot Boats
CLOSE UP

India Project "Making your way into India" is attracting growing attention. Kowa helps you navigate it

Through Kowa India Pvt. Ltd., our locally incorporated company in India, we are building up business infrastructure in the region. In particular, we put a high priority on inviting companies to the Mundra Special Economic Zone in Gujarat State*1, which the Adani Group*2, one of the leading conglomerates in India, has been developing.
Outline
Proprietor of business:

Adani Ports and Special Economic Zone Ltd

Location:

Mundra in Kachchh district of Gujarat State

Area to be developed:

More than 15,000 ha (planned)

Area for sale:

6,473 ha (about 1,800 times the size of Tokyo Dome)
Favorably located in Gujarat State, the Mundra Special Economic Zone is directly connected to the target area of the Delhi-Mumbai Industrial Corridor (DMIC*3), a large-scale infrastructure project in which the Government of India is developing large industrial zones connecting New Delhi, the national capital, with Mumbai, the commercial capital, by a transportation corridor.
In addition, with the geographical benefit of being located on the west coast of India with Mundra Port, developed by the Adani Group, as a gateway for export to the Middle East, Africa, and Europe, it is an ideal location.
Furthermore, a power plant under the direct management of the Adani Group lies adjacent to the Mundra Special Economic Zone, creating an excellent environment in terms of energy logistics for business development in India.
Access
It is accessible from Delhi by highway via Ahmedabad by rail or air, and from Mumbai by land via Bhuj by air.
Infrastructure
Electricity, waterworks, roads, and information and communication networks are well established, and the residential district is fully equipped with medical institutions, parks, community centers, and also various educational institutions.
Situated at three locations, south, east and west, the ports enable efficient logistics with the use of a private airport. In addition, the power plant located in the Special Economic Zone ensures an excellent energy environment. The residential area is located very conveniently in the central part.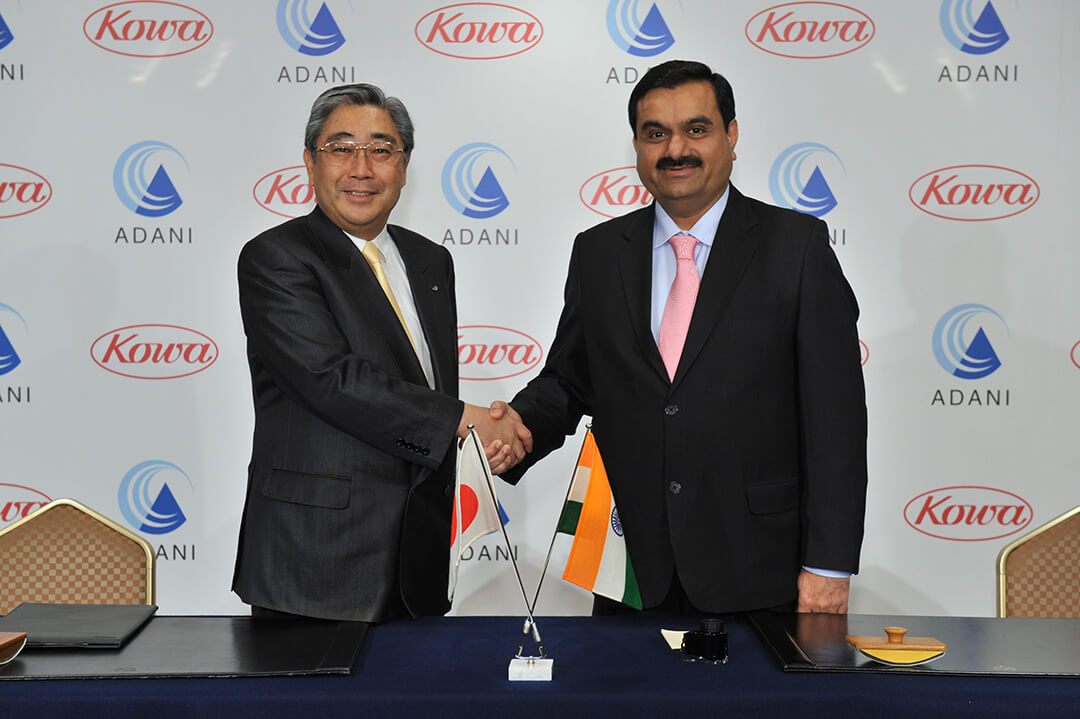 ・Gujarat State
Traditionally prosperous as a place for commerce with West Asia, it now enjoys robust petrochemical and textile industries. With major automakers including Japanese ones setting up in the state, the industrial accumulation of the auto industry is gathering pace.
・Adani Group
One of the leading conglomerates in India. In order to expand trade between Japan and India, Kowa signed an agreement in principle on a comprehensive business alliance on January 28, 2011. Since then, we have accumulated a wealth of experience and established strong relationships.
・Delhi-Mumbai Industrial Corridor (DMIC)
A grand project which aims to connect Delhi with Mumbai, the two biggest cities in India, by a dedicated freight corridor and to develop infrastructure along the line, such as industrial parks, distribution bases, power plants, roads, ports, houses, and commercial facilities, primarily through private capital. It is a joint project between Japan and India, and the total working expenses are estimated to be 90 billion dollars.
CONTACT